PCB Connect proud of collaboration with Topro and Playfinity
PCB Connect AS, in Norway, and electronics manufacturer Topro Elektronikk are proud of their work, and their collaboration with Playfinity.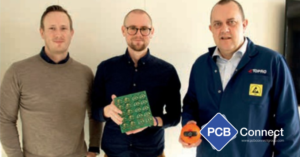 Playfinity are the company behind the activity meters that were first launched in a ball.
The purpose was to get the children away from the computer screen and to go out and play. Now the products have been expanded to include activities such as a trampoline – in the form of a bracelet. It is manufactured at Topro with pcb's delivered from PCB Connect AS.
– This is an exciting product to be a part of, as it is targeting the consumer market with a certain volume.
Wøien explains that the board itself which is supplied by PCB Connect AS is quite simple, but at the same time the manufacturing process is challenging, partly because the battery holder is on one side of the board, and the component are on the other side. The design is nevertheless flexible, which makes it more easy now that we are about to change the battery holder.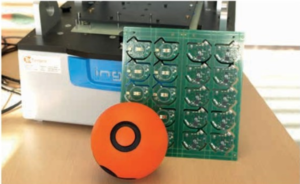 Exiting product
What makes it even more exiting is the commitment Playfinity have been putting down to make this an all norwegian made product. Anders Løbben points out that it's also very exciting because the product is targeting the consumer market with a certain volume.
Significant Testing
The ball is meant to cope with hard shocks, obviously, since its meant be thrown around. Therefore, Topro has purchased a flexible and manual test jig. The jig is very convenient and it is very easy to change the test module. The modules are like a cassette that can be easily removed and replaced with another – Even Karstein Myhre explains.
Educational
PCB Connect and Topro Elektronikk agrees that jobs like these are educational. You get to work closely with the customer, and we get to shown that it is possible to produce an advanced consumer product in Norway, says Løbben and Wøien. It also lies in the fact that they learn a lot about their own competence and how to set up an optimal process in order to be competitive.
Source: elektronikknett.no/